A reliable and affordable GC & GC/MS liquids autosampler.
Total Nitrogen, Sulfur and Chlorine Analyzer
Total Nitrogen, Sulfur and Chlorine  Vertical Analyzer
81 and 51 Position Purge and Trap Autosampler
EST Analytical provides multi-vendor support for purge and trap products as well as system support of complete VOC lines including GC and GC/MS.
EST Analytical provides on-site service for a variety of Sample Introduction Products including Purge and Trap / VOC Instrumentation and GC Autosamplers interfaced with GC and GCMS products. The Service Group at EST Analytical brings over 150 years of VOC application experience to your laboratory. Our specific knowledge base of Purge and Trap Instrumentation along with factory training on GC and GCMS products sets us apart from alternative service solutions due to our "Complete System" approach to troubleshooting.
Services Provided on Site
Demand Repair Service – Service performed on an incidental basis. Service is provided within 3-5 days or sooner if service representative availability allows. EST Service Charge and standard labor and travel rates will apply. Required parts are sold at current list prices.
Preventative Maintenance – Services designed to reduce errors to keep instruments running efficiently
Instrument Refurbishments – Sample pathway replacement for Purge and Trap Concentrators
Contract Support – Unlimited onsite services calls or return to depot repairs. Response time of 48 hours with parts, labor and travel included.
Warranty Support for EST Products
On-Site Training Courses – EST Analytical can provide customized training courses at your facility. Courses include maintenance and repair of purge and trap systems as well as GC and/or MSD instrumentation.
EST Training Courses are designed in partnership with the customer. We have several training modules that can be used as a template to constructing the perfect on-site training course for your laboratory. We will customize the agenda based on these modules and your individual needs. Courses are delivered to groups of 6 or less students for a cost of $1500 per day plus travel expenses.
Module 1 – Basic Gas Chromatography
Overview of the chromatographic process that includes theory training regarding column separation science, partitioning, efficiency, and resolution. Cap column choices, flow rates, and typical chromatographic problems.
Module 2 – Purge and Trap Theory
Why use Purge and Trap? What is gas extraction and headspace equilibrium? Explore factors affecting purge efficiency. Trace typical purge and trap flow paths.
Module 3 – Purge and Trap Familiarization
User training for specific Purge and Trap instrument models. Modes of operation are explained, review of flow diagrams, configuration with autosamplers and GC's are delivered within this module. Method configuration is verified and default method setups are completed.
Module 4 – Purge and Trap Troubleshooting
Maintenance and Troubleshooting of EST supported purge and trap models. The course covers general troubleshooting tools and techniques specific to problem solving purge and trap systems such as leaks, flow problems, and response issues. The course will also deliver basic maintenance procedures to keep your instruments running efficiently.
Module 5 – GCMS PT User Training
System overview and familiarization of EST supported GCMS systems. Review of instrument components, instrument tuning, method editing and optimization, and data analysis. The course will also cover GC and MSD maintenance and basic troubleshooting of issues like leaks, response inconsistency, and vacuum efficiency.
Module 6 – Purge and Trap – Environmental Methods Familiarization
This course is designed to train the novice environmental VOC Analyst to operate their system in accordance with the EPA Method 8260 Guidelines.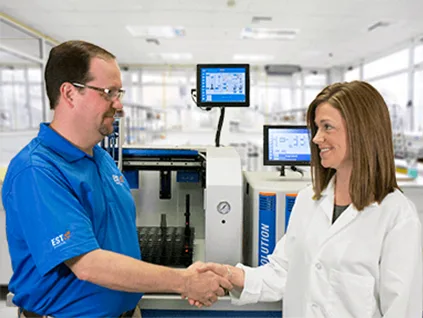 Preventative Maintenance Solutions
EST Analytical provides preventative maintenance solutions that are designed to help your instrumentation maintain peak performance. Customers receiving PM service from our factory trained service engineers experience the following benefits:
Reduce Downtime
Increased Reliability
Increased Production
Reduced Repair Costs
Extended Instrument Life
One of the key side benefits and cost savings realized by our customers is the ability of the PM Service to identify potential repair items that can be addressed during the PM. Simple repairs can be addressed during the PM without the need for costly scheduled repairs at a later date by combining the repair with the maintenance service.
Purge and Trap
Trap and Mort Replacement
Vent and Bake Valve
Vent Line Restrictor
XYZ Mechanical Maintenance
Bushing and Bearings
Gripper Maintenance
Syringe Maintenance
SW Updates / Inspection
Application Method Review
Combustion Analyzers
Thermocouples
O-Rings
Perma Pure Dryer
Quick Connects
Vacuum Maintenance
Thermal Switch
Ozone Killer
Inline Filters
Parts and Labor (Zone/Travel charges additional)
Full system performance
evaluation
Method/Application review with the user
Over the course of analyzing for VOC's, the purge and trap's sample pathway will develop active sites and deposits. This results in low response, inconsistency, increased carryover, and high RSD's for heavier, late eluting analytes. These issues lead to reduced throughput and efficiency due to increased calibration attempts and excess quality control verifications. After refurbishment, the instrument has a new sample pathway free of the issues listed above.
Complete Sample Pathway replacement
New 6-port or 8-port valve
Vocarb 3000 (K) Trap alternate traps by request.
Replacement of fittings – Silco Steel or Siltek
Complete Mechanical Evaluation.
Operational Qualification (OQ)
Data Pack (Available With Bench Repair Only)
Approval required for any additional repairs
| | | |
| --- | --- | --- |
| Operational Qualification | | |
| Calibration Linearity | 5 point calibration – 8260 Test Mix | 2 ppb – 200 ppb |
| Carryover Validation | Blank Analysis | After 50 ppb and 200 ppb |
| Consistency Study | 5 Reps @ 20 ppb w/IS | < 8 % RSD |
EST offers Bench Repair solutions for a wide variety of instrumentation. All you need to do is package the instrument and ship it to us, and our trained bench repair technicians can troubleshoot and repair your problem in a timely manner. If you would like, an optional analytical evaluation can be done after any repair.